Join Our Team at RE/MAX Gold

Thanks for taking the time to learn more about joining the NorCal Home Team here at RE/MAX Gold. We're thrilled to have the opportunity to share the power of the RE/MAX brand, and the core values of our team with you. Our team is unique in that our team members are encouraged to market themselves independently - not solely as a member of a team. You will have the all the benefits of working on a synergistic team of experienced professionals, without the typical marketing limitation of getting lost in having to promote the team first. Check out these numbers:
RE/MAX agents significantly out-produce our competitors, and working with the most productive people only makes you better. In a recent study appearing in Baylor University's Keller Center Research Report, researchers found that if a competitive person is placed in a non-competitive environment, they'll perform no better than their non-competitive peers. If you're in an office or on a team with a lot of non-productive agents, there's a good chance that environment is negatively affecting your ability to reach your full potential.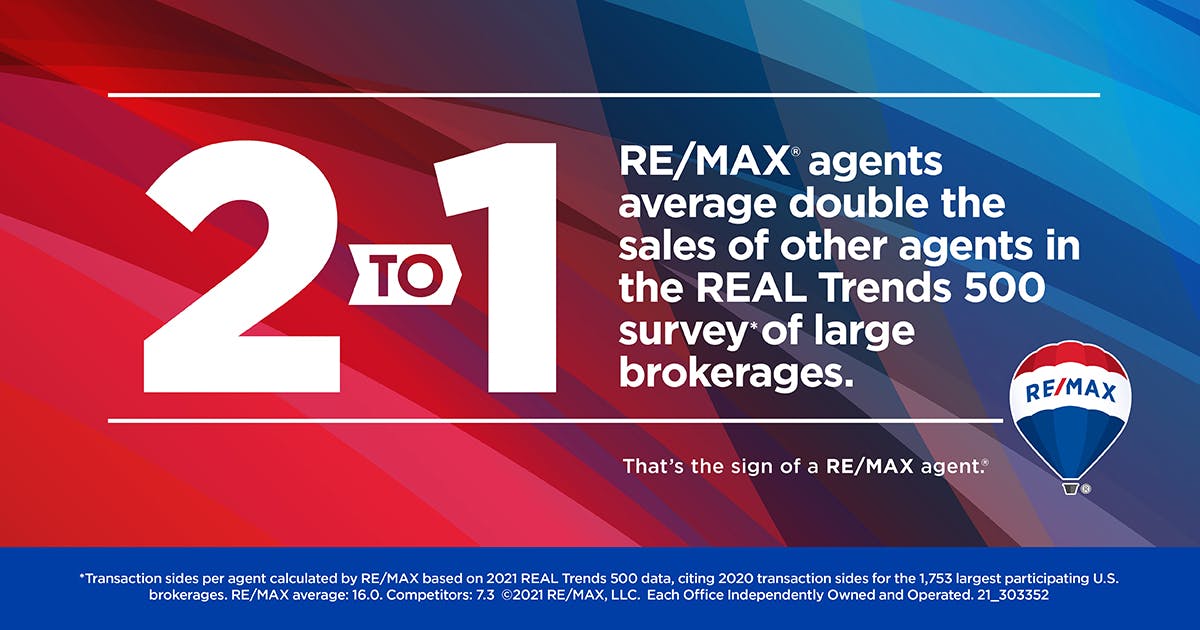 RE/MAX is a global company with offices in over 110 countries, it's the #1 real-estate brand in the world, and the RE/MAX Gold name is known all over California. With 119 locations in 35 counties from Fresno to Yuba City and from Marin County to Placerville, RE/MAX Gold is strategically located to assist NorCal homeowners and home buyers wherever they live. Our offices are located all over Northern and Central California and as part of our team, you will enjoy one-key access to all or our company offices, a valuable and time-saving benefit to both you and your clients.
Since its inception in 1994, RE/MAX Gold has grown to be a truely a regional company with offices throughout California, Arizona, Nevada, Oregon, and Washington, featuring 2,700 local agents. We are further supported by RE/MAX International, the largest real estate network in the world with over 130,000 agents in more than 110 countries across the globe. There's no better place to build your real estate business, and no better group to be associated with than ours. Our NorCal Home team is different than most other teams - we all maintain our independence in marketing, but we collaborate together and help each other if/when the need arises. It's a positive and synergistic environment with experienced professionals
Once you are chosen to join our team at RE/MAX Gold, you will have the opportunity to do more quality business, and you'll be working with an elite group of experienced and award-winning agents. We are who we associate with ... make sure it's the right brand and the right group of people. Submit the following form and get the process started, then we'll schedule you for a confidential interview. This is the perfect time to join our team and elevate your game. We look forward to hearing from you!
Submit Your Info and Let's Talk!