What's the current value of your home?
Thinking about selling? Get an instant online evaluation, for free.
Selling a Sacramento-Area Home
We Know the Sacramento Real Estate Market
Selling your home can be hard, but it shouldn't be complicated - at least not for you. There's a lot to do in order to effectively and competitively position your property to sell under the best terms for you, but a lot of agents present the process as just "too complicated" for you to understand. We have decades of experience providing professional, elite service to our clients, and we like to take the uncertainty of this process off your plate, and deliver some simplicity and clarity to your home-selling experience. In the words of Albert Einstein, "If you cannot explain it simply, do it simply, design it simply ... it's because you don't understand it well enough."
We provide: Clarity, Simplicity and Certainty.

Whether your home's in Sacramento, Placer, or El Dorado County, the Sacramento-area real estate market features unique and diverse micro real estate markets. Each community has its own character and neighborhoods appeals to a different buyers. To obtain the highest possible sales price for your home, the marketing must reach the right buyers, with the right message, at the right time. We have the professional network, global brand presence, and decades of experience to do this - and do it right.
Get started with your Free Market Analysis by submitting the form below, or for an instant online valuation report, submit your property info in the box above.
Access Your Free, Custom Market Update Report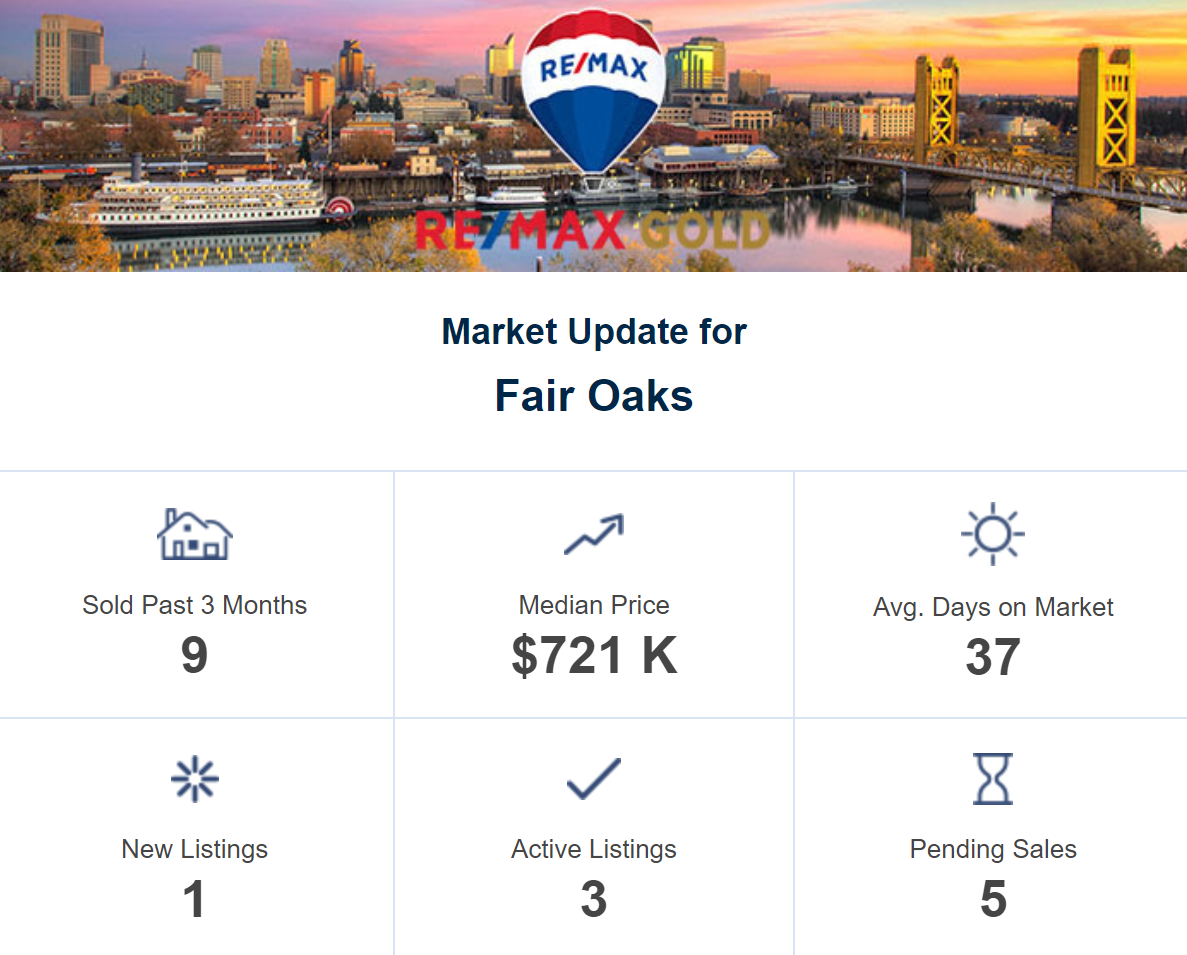 We will prepare and email to you on a regular basis, custom Market Update reports that provide you with critical market data, including currently Active listings, Pending sales, and Recently-Sold properties in your area. Click here to see a sample Market Update Report, where we provide links to full listing details of each competitive property, as well as recent trends. We can produce this report and email it to you on a weekly or monthly basis, and it can be a good way to track the market for your home if you're planning to sell in the near future. It's simple to access this valuable feature; just submit the contact form below and enter "Market Update Report" in either of the comment sections. We'll use the info you provide to prepare your personalized report.
We Have the Creative Talent to Showcase Your Home
The old adage, "You can't judge a book by its cover" is passé today. This is a fast-paced, image-oriented society in which we live, where first impressions really do count! Every piece of information on your property, whether it be a brochure, the wording in the Multiple Listing Service, a digital presence on the internet, or a well-placed advertisement, must show your home in the best possible light. It's not enough to take a few pics with an I-pad and call it a day.
So, once we get those consumer eyeballs on your listing, who do consumers get when they inquire about your home? When you list with us, any interested party will be directed straight to the agent you hired - who knows more about your property than anyone else. In some brokerages, those inquiries are often passed on to "floor agents", which is good for the brokerage but really bad for you. What is the point of hiring experienced, productive professionals to represent you if they are going to simply hand your listing inquiries off to a random floor agent in their office? We take pride in representing you and your interests, and want the opportunity to interact with potential buyers. RE/MAX agents out-produce our competition 2:1 for a reason.
Here's a brief summary of some of the professional services we provide to our clients:
Free, Professional Home Evaluation: A well-priced home can create a competitive environment with potential buyers. Conversely, an overpriced home can create disappointment with buyers, resulting in the listing sitting on the market and becoming stagnant or stale. Our free market analysis takes into account the most actively searched prices and home values in the area, and provides you with a detailed evaluation that puts it all in perspective.
Free Market Reports: If you're considering selling, we'll prepare detailed Market Reports and deliver them to your inbox on a regular basis to help you keep your finger on the pulse of the micro market surrounding your home. This report will provide you with comparable properties that are Active, Pending, and Recently Sold, so you'll always know what's happening.
Sell with a Professional: Our custom marketing plan is based on decades of experience, and will take the guesswork out of selling your home. From professional advice on properly staging and positioning your property, to negotiating a great deal, to closing the escrow, we'll be there for you the entire way.
Free Home/Landscaping Prep and Staging Consultation: Often there are a number of things that will make your home stand out, and position you to get top dollar. Our experience knowing what buyers look for and pay for will be invaluable to you.
Professional Photography and Videography: You can tell the difference between professional photos and ones taken with someone's phone - and so can potential buyers. If we're going to polish your house up, let's show it off!
Social Media Marketing Campaign: We'll create digital marketing assets for your home and use them to tastefully post your home across social media.
Single-Property Website: In addition to posting your listing all across multiple internet portals, we'll also create a specific website for your home and use that as another online marketing tool.
High-Quality, Professional Color Flyers: High-quality flyers are important to make your property stand out.
Professional Transaction Coordinator: We provide a transaction coordinator (TC) at no additional cost to you, that handles all the paperwork and helps with file compliance.
No Administrative or Junk Fees: We do not try to "back-charge" you for things we provide.
Open House Coverage: If appropriate, we will expose your property to the market with multiple open houses, and follow up with any and all interested parties.
During all phases of a listing, from the initial paperwork and promotion through the very last details of the closing, we attend to all of the details. As a result, the large majority of our transactions come through referrals and repeat business. Submit the form below or input your property information in the box at the top of the page to get a quick evaluation of your home's value. Put our team to work for you today and experience the difference experience makes!
Tell Us More About Your Home