Luxury Home Marketing
Luxury home marketing is not for the inexperienced agent - it's a unique, niche market that demands a lot more than just a few dark, blurry photos taken with someone's phone or tablet. What features make your luxury home unique and extraordinary, and how should these features be promoted? Your prospective luxury-home buyer expects to see things like professional, high-quality photos, drone footage, custom flyers and videos, etc., and your agent needs to deliver them - and then some, or it could cost you big money. When you're looking to buy or sell a Luxury Property and your needs and standards are beyond the norm, we welcome you to discover the RE/MAX Collection® we deliver here at RE/MAX Gold. Here are examples of our full-page ads in Luxury Home Magazine: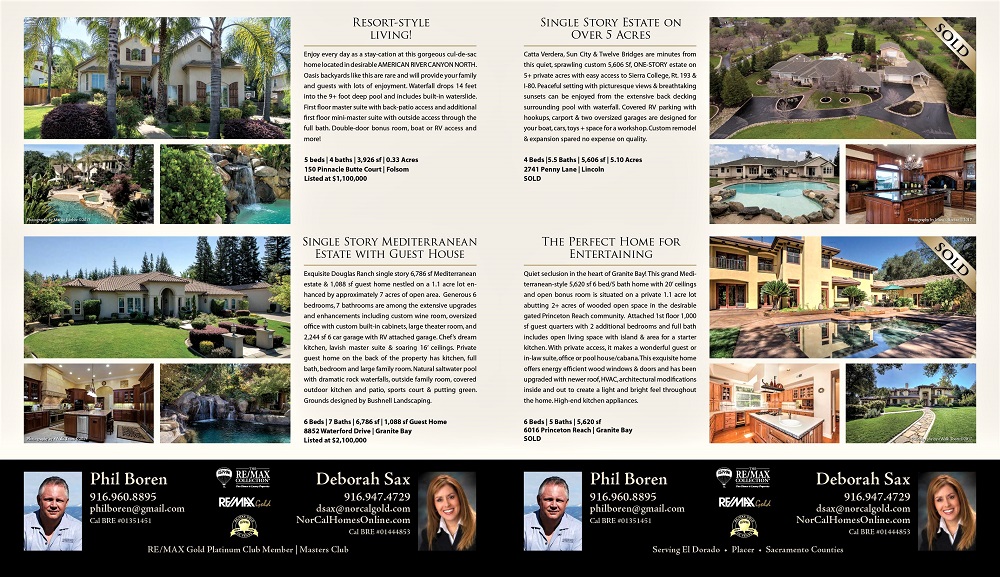 Elegance. Class. Sophistication. The RE/MAX Collection® offers all this and much more to affluent home sellers and buyers all over the globe using unique luxury home website(s) as well as Global.Remax.com. By focusing on upscale home sellers and buyers' custom needs, we provide our clients with not only our experience, but a real edge in the luxury-home market. If you are looking to buy or sell a luxury home in our market, partnering with us will provide you with the level of expertise, marketing, and discretion that you deserve, and the level of professionalism and class your prospective buyer demands. If you're ready to get moving, contact us today.
There are certain guidelines for marketing a home under the RE/MAX Collection® umbrella, one of which is that the list price needs to be at least twice as high as the average listing price in the local MLS®. In our market area, this tends to dictate a minimum list price of about $900,000, but there are other criteria as well.
Below is a quick video from our digital ad specialist, Kelcie, to show you one of the unique ad campaigns that we use as soon as you list your home with us. Ready to start the conversation? Submit the form below and contact us today, to put the value of our team's expertise and experience, as well as the power of the RE/MAX Collection® to work for you!